Take a Human On A Stick Segway Tour to see Minnesota's fall colors like you never have before
Fall is back in Minnesota and already it's 'leafing' its mark on the wonderful nature views we have here in the Twin Cities.
Everyone who is from the midwest knows that autumn is a lovely time of the year. Those states with no seasons pine for a trip to places like Minnesota to experience the crisp and colorful months of September through November.
As longtime Minnesota residents, us at Human On A Stick know when and where to see the most vibrant colors–– and our insider recommendation is to see them from a guided Segway tour.
Many folks believe they have to venture out of the city to see the colors of fall. While Greater MN is beautiful this time of year, the colors are just as vibrant in the city– perhaps even more so as they contrast with the bustling landscape of the metro.
Without having to leave Minneapolis, a unique and fun way to soak up all the oranges, yellows, and reds of Minnesota's most significant season is by taking a fall colors Segway tour with Human On A Stick!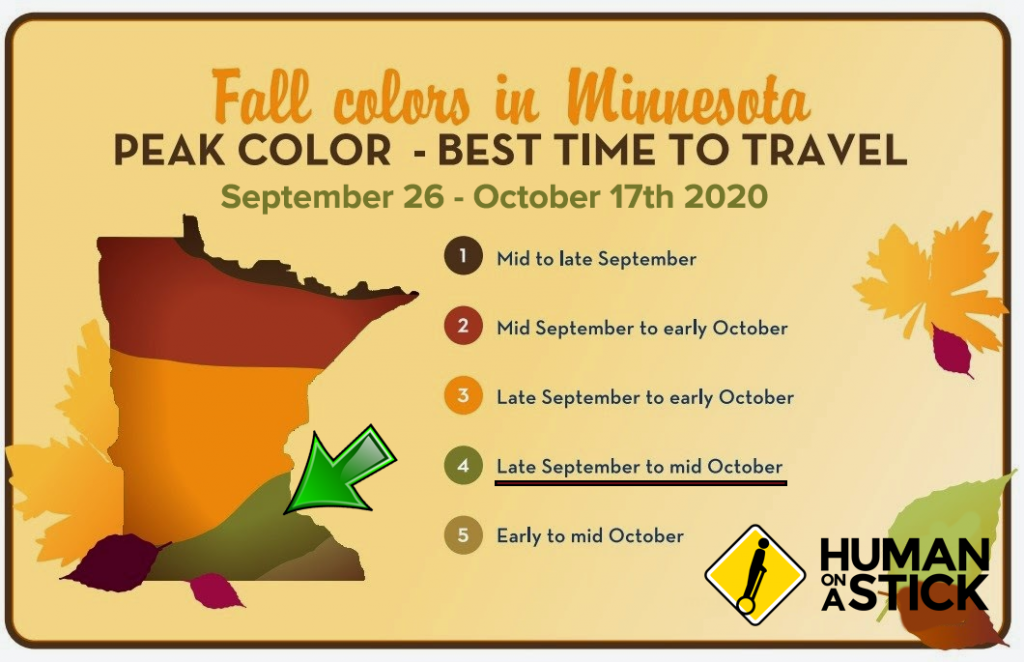 As you can see above, we are approaching the season of peak fall colors in MN. The best dates to book a tour this fall are September 26 through October 17, but of course this is flexible as nature has a mind of her own.
Human On A Stick currently offers the Magical History Segway Tour of Minneapolis, and the Minneapolis Walker Sculpture Garden Tour. Both have fantastic views of transformed leaves along the Mississippi River and in Minneapolis parks.
Take a fall colors Segway tour with your family before the Segways hibernate for the long winter months. We are open everyday until November 15 (or unless there's snow/ice on the ground).
Click here to book a Segway tour today, or call 952-888-9200 to schedule a tour with someone from our team.